New York Times Write-Up on Havana Biennial Performance
7/20/2015
I recently was fortunate to have traveled with School of the Museum of Fine Arts professor Maria Magdalena Campos-Pons to Cuba for the 12th Havana Biennial for a performance in Casablanca. A few MFA graduate students from her installation class helped design and participate in a public performance that involved engaging Cuban citizens in a park with questions about current U.S. and Cuban relations. The performance, titled "Conversando," was mentioned by Holland Cotter in the New York Times in an article discussing this year's biennial. Here is a link to the article: http://www.nytimes.com/2015/07/05/arts/design/havanas-vital-biennial-was-trumped-by-a-stifled-voice.html?_r=0

This is the second performance that I have participated in with Maria Magdalena Campos-Pons. The first performance, titled "Habla La Madre," was for the Carrie Mae Weems Retrospective at the Guggenheim Museum in 2014.
---
---
SMFA Graduate Student Commencement Speaker 2015
5/28/2015
I was honored to be selected as the 2015 School of the Museum of Fine Arts Graduate Student Commencement Speaker. Here is a video recording of my commencement speech below. The speech transcript has also been published on the SMFA website: http://www.smfa.edu/files/Helina-Metaferia-MFA-Student-Speaker.pdf


---
Selected as one of the "Top MFA Students to Watch" by Boston Globe
4/24/2015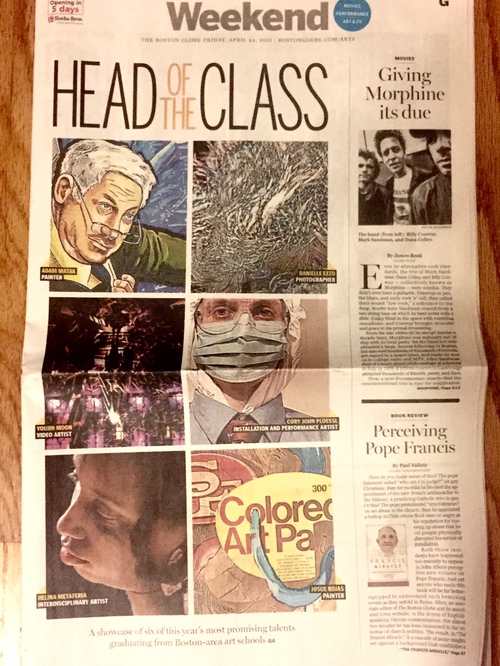 I am happy to be featured in the Boston Globe today in an article on top MFA candidates in Boston, written by art critic Cate McQuaid. It was a good overview to my work and my upcoming thesis exhibition/performance on May 14 at the Boston Center for the Art's Cyclorama.
---
Upcoming Spring 2015 Exhibition Schedule
4/1/2015
Friday, April 10, 2015
9:30pm-11:00pm
The Great Americas Performance Art Festival
Grace Exhibition Space
840 Broadway, Brooklyn, NY
Artists: Helina Metaferia, Marita Isobel Solberg, Matthew Gioia, Maria F. Hubeaut, Coralee Lynn Rose
The Great American Performance Art Festival is a series of performance art events curated around the question of American identity and its implications, most specifically the notion of borders and barriers.
Exhibition: April 22 - June 20, 2015
Reception: Saturday, May 16, 5pm - 7:30pm
Performance: Saturday, May 16, 7pm
Mapping the Dorchesterway Part Two
Medicine Wheel Productions
110 K St. - Second Floor, South Boston, MA
Artists: Ekua Holmes, Maddu Huacuja, Lana Jackson, Carolyn Lewenberg, Derek Lumpkins, Cagen Luse, Helina Metaferia, Hakim Raquib, Kristen Belton Willis
This exhibition features artists from Mattapan and Roxbury and is part of Medicine Wheel Productions' multi-year Brooch project "that is engaging the communities along the unfinished line of Olmsted's Emerald Necklace."
Saturday, April 25, 2015
Noon-5PM
Transient Vessels: Bodies through Boston and
Washington D.C.
Performance Art @ Massachusetts College of Art and Design - Pozen Center
621 Huntington Ave. Boston, MA
Curator: Elaine Thap
Artists: Eames Armstrong, Hayley Cutler, Jane Claire Remick, Helina Metaferia, Bryana Siobhan, and Nabeela Vega
Boston/DC transplant artists work through the nature of living in transient communities through performative works.
Thursday, April 30, 2015
5:30pm - 7pm
END RECORDINGS: Graduate Student Thesis Screenings
Museum of Fine Arts, Boston
Alfond Auditorium
465 Huntington Ave. Boston, MA
Artists: Aparna Agrawal, Alexandra Borovski, Dana Caroll, Allison Cekala, Kaitlyn Clark, Holden Holcombe, Yin Liu, Yushan Liu, Helina Metaferia, Nick Procopi.
END RECORDINGS will feature works in time-based media by eight graduating Master's candidates. Their works highlight the complexities of transnational identity, expose a transgender man's struggle to transition, instruct us in the art of communication, sensitively deal with loss, and explore landscapes which are lush, artificial, surreal, and dystopian. The show will present a vast array of perspectives from Boston's emerging moving image artists.
Exhibition: May 11-14, 2015
Opening Reception: May 14, 7:30pm - 10pm
Masters of Fine Arts Thesis Exhibition, SMFA, Boston
The Cyclorama at the Boston Center for the Arts
539 Tremont St. Boston, MA
Artists: The Graduating MFA Class of 2015
Featuring film/video, painting, performance, sculpture, photography, drawing and more, this dynamic, group exhibition will feature graduating students of the 2015 MFA class.